A csapat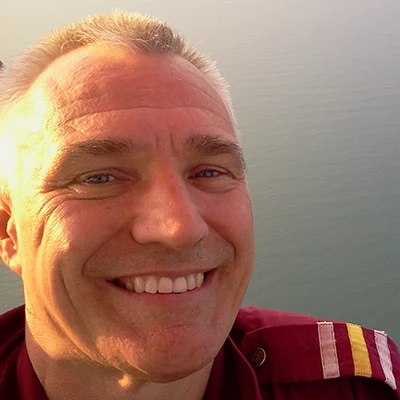 Peter Kollar
Chief Pilot, co-owner
Peter, our Chief Pilot, is one of the most experienced balloon pilots in the world. A "legend" among balloon pilots, one could say. He started flying in 1991 in New Zealad and completed more than 4000 flights since. Peter has Hungarian, New Zealand, German, Italian and United Arab Emirates commercial pilot licences. He is also an instructor and a flight examiner. A further proof of his flying ability is that he also holds two Guiness World Records in ballooning / skydiving and the New Zealand balloon altitude record.
Peter is, however, not just a balloon pilot: As a balloon company owner / manager he had set up and successfully led balloon companies in five countries on three continents. Peter speaks four languages at an advanced level. His unique international technical and safety knowledge plays a fundamental role in our successfull operation.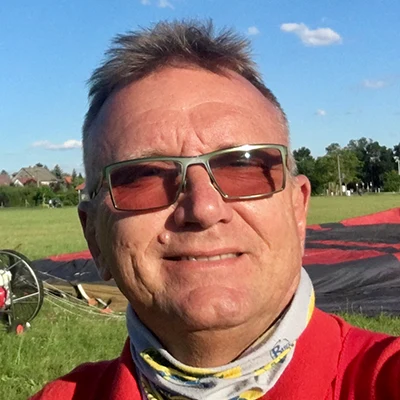 Attila Alklan
Pilot and Operations Manager
Attila started his aviation carrier as a skydiver in 1984. His first flight in a hot air balloon was just a year after that and by the end of 1985 obtained his balloon pilot licence. Two years later he became an instructor and 1988 a test pilot. Since 1989 Attila instructed students, lead a balloon sport club and took part in international competitions as a member of the national team. He flew balloons in about 30 countries, among those in Japan and in New Mexico. Attila started flying for our sister company in 2007 in Dubai (Balloon Adventures Dubai), where he worked under the guidance of our Chief Pilot, Peter Kollar. He flew in the winter in Dubai and in the summer in Hungary for the next eight years. Since 2016 he flies exclusively for Balaton Ballooning. Apart from Hungarian, Attila also speaks fluent English. Attila's level of experience is unsurpassed in Hungary (3200 flying hours in 32 years). His flying skills coupled with his professionalism and happy outlook on life guarantee a safe and enjoyable experience for our passengers.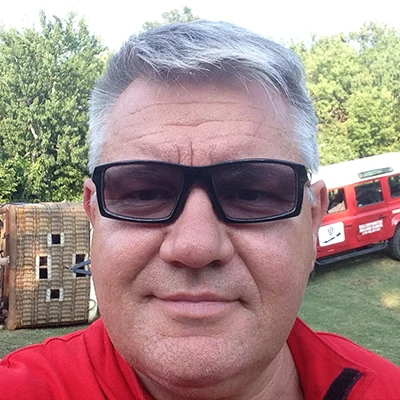 Gabor Kollar
CEO, co-owner
After graduating Gabor started working for Hungarian Airlines in 1991. He was the regional manager for North-West Hungary and Slovakia. He completed various courses, such as IATA UFTAA and management studies. He gained outstanding experience in travel maketing, customer relations and PR. He was asked in 2007 to head the first full time, professional passenger balloon operations. Gabor built the company from 0 into the very successfull entity that is Balaton Ballooning today! His work greatly contributed not only to Hungarian ballooning but also to Hungarian tourism in general. Gabor can communicate in four laguages (English, German, Russian and Hungarian). Gabor's approach to work and customer service can be summed up by his favourite motto: "Do it well, or don't do it at all!"
---
Ground Crew
Most of our crew have been working with us for over 10 years. They are a highly trained and motivated team. Our crew is fully aware of the fact that their work and professionalism has direct impact on our quality of service. They are a dedicated and friendly team that our pilot and passengers can always rely on.
Our equipment:

Cameron A-375 envelope
Ultramagic C11 basket, max. 18 passengers + pilot
Ultramagic MK21 quad burners
Cameron titanium fuel tanks

Icom aviation radio, Bendix-King transponder, Flytec 6040 and Apple instruments

Nissan and Landrover 4WD, Mercedes passenger bus